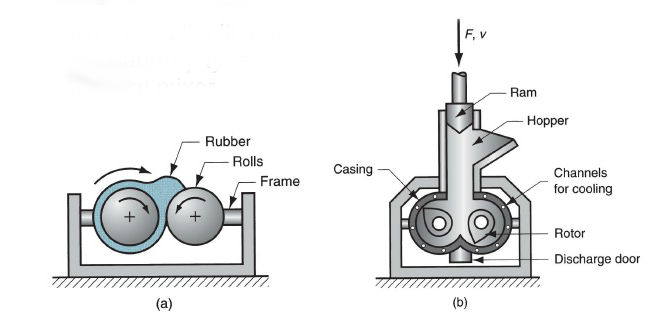 TRIVENI RUBBER's in-house compounding department produce compounds of consistently high quality, to match an existing compound or develop custom compounds according to exact requirements and industry specifications.
Triveni Rubber's comprehensive compounding services have met the needs diverse industries for more than 20 years. Our compounding capabilities let us control the process from formulation to final product, guaranteeing overall stability and quality of the compound.
Our expert, in-house developers work closely with customers to formulate specific compounds based on customer needs and the intended use. Our in-house testing lab ensures the uniform high quality of our compounds is maintained throughout the manufacturing process.
We handle flexible production runs — small batches to high-volume runs—and promise on-time delivery, even with short lead times.
Materials: NR, SBR, BR, NBR, HNBR, EPDM, NBR/PVC, CR, Silicon, Fluorsilicon rubber, FKM, FEPM.
Types: Black compounding, colour compounding, specialty compounds
Banbury Mixing capacity : 35 Liter
Semi-Automated Programmable upto 5 Mixing Cyles
Programmable according to Time and temp of mixing.
Pneumatic Ram for Controlled Mixing Cycles.
As compared to any Kneader, the Banbury is Faster and Efficient and achieves better carbon dispersion. With the Banbury mix we achieve consistent Batch to Batch quality
2 Nos 16"x 42" Open Mixing mills with adjustable guides and stock cutters.
1 No Batch off with Antitack dipping unit and effective cooling system.
Bath off is capable of Cutting in strip or sheet from and wig-wag into a pallet.
After the Mixing Cycle, the Rubber compounds are passed through the Batchoff Machine that coats the rubber with an Anti tack coating and are air cooled to room temperature. These Mixed compounds are then directly layered in the designated pallet as sheets in a Wig-Wag form. These Pallets are either Wooden or Steel pallets and have plastic liners for compound protection. Process parameters ensure minimum human intervention.
The standard Packing Specs are as below :
Pallet capacity : MAX 1000 Kgs, MIN 250 KG
Type: Sheet / Strip Form wig waged
Packing: Compound volume shrink Wrapped of Plastic lined
Outer Packing: Wooden Pallet or Steel Pallet
Apart from the above standard packing, we also cater to customer specified packing requirements.
Once the pallets are packed and the samples drawn, clear QA inspection, the Pallets are then given their Final Identification Tags as per the customer order and shipped off.